About Us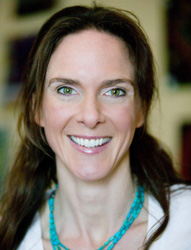 Founder Jenny Kierstead, BPE, BEd
E-RYT 1000hr Yoga Teacher
Yoga Therapist
Ayurvedic Instructor
Qi Gong Instructor and Healer
Jenny is the founder of national award winning Yoga in Schools. A visionary in the yoga movement, Jenny received the prestigious Women of Excellence Award and the RBC Women of Influence Award for her Yoga in Schools initiative. After teaching Physical Education in Vancouver for 8 years, Jenny returned from her studies in India and was the main contributer designing a Yoga Grade 11 course for the Nova Scotia Department of Education, the first ever PSP yoga program implemented in Canadian public schools.
Through Thompson Publications Inc, Jenny designed yoga posters for both Elementary and Secondary levels, which are used by teachers around the world. She has also co-authored a Yoga for Autism Program with Autism Consultant Catherine Rahey, as well as a Yoga for Special Needs Program. Most recently Jenny has written the revolutionary Girl on Fire Empowerment Program for teen girls, which is reaching women of all ages. Their latest evidence-based project, Mindfulness in the Classroom is changing the way teens relate to life, to themselves and others.
To support these school-based programs, Jenny and Blair and their team run a highly reputed Yoga Teacher Training Program, attracting teachers internationally. 
As a dedicated educator and innovator, Jenny's teachings are rooted in over 10,000 hours of study with leading authorities such as the legendary Shri K. Pattabhi Jois, Deepak Chopra and Michael Lee. Most recently Jenny acquired full certifications in Qi Gong and medical Qi Gong.
Jenny is also the Official Yoga Trainer for Olympic athletes in Atlantic Canada.
Beyond inspiring others to embrace the path of peace, Jenny enjoys the adventure of life with her husband Blair and their two spirited daughters.
"As an Olympic athlete, I'm always looking to improve my training and recovery and have found practicing yoga with Jenny to be a great benefit to my training over the past several years. Jenny is an inspiring yoga teacher and I'm proud to have her as part of my team." 
Mark De Jonge - Olympic Medalist
---
Blair is an award winning educator of 35 years and Quality Schools Therapist. He designed the first mindfulness program for NS Teachers 25 years ago and taught the first Yoga Grade 11 course for the Halifax Regional School Board. Blair has studied with renowned teachers, including William Glasser, Stephen Levine, and Dr. Jon Kabat-Zinn. Blair is not only the administrator of the Breathing Space Teacher Training Program, he also facilitates in the areas of mindfulness and cognitive therapy, infusing his teachings with his Cape Breton sense of humor. Blair's teachings have recently been compiled in his latest manual Mindfulness in the Classroom: opening doors to a new way of thinking. Blair lives with his beloved wife Jenny and two darling daughters.